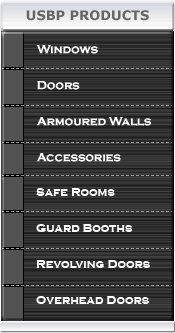 More Information
USSD 4000


United States Bullet Proofing Products: Doors

USSD4000 - Forced Entry/Bullet/Blast Resistant Steel Door
(Single or Double Door)

| | |
| --- | --- |
| | In order to meet the growing demand for steel doors that do not necessarily require the State Department Forced Entry Rating, United States Bullet Proofing introduced the 4000 Series. This is a blast and ballistic door that meets ASTM forced entry requirements. This door is available as a single door or as a double door, swinging or sliding configuration. Sidelights and transoms are also available. |

Ballistics – UL 752 Levels 1-8, NIJ I, II-A, II, III-A, III
Blast – Exceeds GSA DOD (UFC)
Forced Entry – ASTM F1233 and F476
Frame Size – 2" W x 5" D with custom sizes available
Door Size 3' x 7' with custom sizes available
Door Thickness – 2 3/4"
Glazing Thickness – 1/4" to 2 3/8"
Applications – Interior or Exterior. Safe Rooms, Guard booths, security closures, unmanned exit doors, oil refineries. An economical alternative when a high level of forced entry protection is required but not to the level of the USSD 3000.

The USSD4000 Steel Door Series is shipped pre-hung, pre-glazed and factory assembled. Available with clamp-on or built-in configurations including viewer, louvers, gun ports and/or deal trays. May be used individually or assembled for guard booths, security closures, etc. The unit is available as a swinging or sliding door, interior or exterior application.
The USSD4000 Steel Door Series is constructed as a full-flush type unit. All joint connections are welded to provide a rigid assembly when installed. The door framing is constructed from extruded ballistic steel. Complimentary window construction allows for aesthetically uniform security application that is available in many style and finish options.
Standard door hardware: Heavy-duty continuous hinge, deadbolt locksets with cylinder, LCN closer and push/pull handles. Numerous hardware options are available to meet access and security needs; please consult factory for further information.
Style options: Half-vision, opaque, view-vision, sidelites, transoms, man-trap configuration.
Standard door size: 3' x 7' (custom sizes available)
Standard frame: 2" W x 5" D (custom sizes available)
Door Weight: varies per application
Standard finish: Prime paint; custom colors, Kynar paint, aluminum, brass and stainless steel cladding are available.

It is recommended that the door be used in conjunction with protected wall and
window areas.

Each end user should determine the ballistic and forced entry threat to ensure the
correct product selection to meet and exceed security needs.